Resilient Flooring in Rancho Cucamonga, CA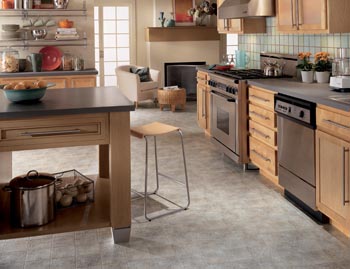 When you want all the style of real hardwood, stone, or tile floors while saving money, then it's time to check out our resilient flooring options. Our fully stocked warehouse showroom has the finest selection of luxury sheet vinyl, as well as other resilient flooring products like vinyl plank, luxury vinyl tile, and natural materials for any application. Resilient flooring is highly durable, easy to maintain, and affordable. This category also includes luxury vinyl, cork, linoleum, and rubber flooring. Our design and flooring experts are ready to help you find the best flooring material for any area in your home.


Modern Vinyl Plank & Sheet Vinyl Technology
When you think "vinyl," it may bring to mind tacky kitchen floors. However, modern luxury vinyl is nothing like this! The wonders of technology have brought innovation to vinyl, making today's vinyl floors completely different from traditional products. In addition, there's no limit to the applications of modern vinyl. Whether you need full-kitchen luxury sheet vinyl flooring that simulates natural stone or wood vinyl plank that looks like hardwood, you'll find all types at our showroom.
There are two categories of luxury vinyl, each suited to the different needs of the room or style you want. Luxury sheet vinyl comes in flooring sheets between six and 15 feet wide, which allows it to be installed just as conveniently and inexpensively as traditional vinyl. This flooring option is also seamless. It does not collect dirt and bacteria, but offers a hypoallergenic advantage. The difference between luxury sheet vinyl and traditional vinyl is in the customization options. Modern vinyl fabrication methods can make your vinyl look exactly like natural stone, wood, or tile.


Wood Vinyl Plank & Vinyl Tile Solutions
The newest and most exciting vinyl innovation comes in the form of luxury vinyl plank (LVP) and luxury vinyl tile (LVT). These products are textured vinyl boards that simulate natural hardwood floors at an excellent savings. Luxury vinyl tile replicates ceramic, natural stone, or porcelain tiles. It is also much easier to install. In fact, wood vinyl plank flooring installation can be performed in a fraction of the time of natural hardwood flooring, and it looks just as good in your home.


Eco-Friendly Luxury Vinyl Tile
Not only is new luxury vinyl the affordable choice for your home, it is also a "green" option. Old-fashioned vinyl had a bad reputation as a flooring choice. Some of it contained asbestos, and the manufacturing process was very wasteful of water and other resources. Advances in technology have made these problems obsolete. The manufacturing process for luxury vinyl tile and sheeting has been improved dramatically, because the recycling process has made it more eco-friendly than ever before. Now is the perfect time to choose luxury sheet vinyl for your home. Hurry into our flooring warehouse showroom today, and let us help you find the affordable vinyl solution for your home.



Contact us for more informational about our affordable and brand-name resident flooring products. We proudly serve customers in Rancho Cucamonga, Alta Loma, Upland, Fontana, and Ontario, California.