Luxury Vinyl Tile in Rancho Cucamonga, CA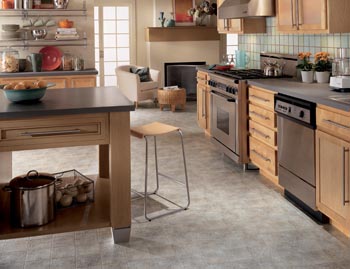 Luxury vinyl tile, also known as LVT, is one of the most stylish and durable flooring options we offer. With its timeless appeal, as well as outstanding look and feel, it is easy to see why vinyl flooring is one of the most popular types of flooring materials available on the market today. For an active household with children and pets, this resilient flooring works well as your go-to choice because of how extremely durable and scratch-resistant it is.
Enjoy the beauty and durability of luxury vinyl tile flooring for many years. With its ease of installation, stress-free maintenance, overall durability, and added value, this kind of flooring is the perfect selection for any room. Additionally, it is water resistant and versatile. Install it in your kitchen, bathroom, family room, den or entertainment room, or even in your basement or workshop, and enjoy beautiful floors for years to come.
Vinyl floors are designed using the most advanced technology available. Today's options are designed to look and feel like natural stone, metal, and real wood. Add depth to a room with floors that are flexible and versatile. Other benefits of choosing luxury vinyl floor tile or luxury plank flooring include:
Affordability - Many homeowners desire the high-end look of hardwood or stone, but don't have the budget. Vinyl affords you the opportunity to add the look of these sought-after floors without the same high price.
Stylishness - You don't need to sacrifice quality for style and price. The fact is, this flooring offers the best of both worlds.
Value - Are you looking for a convenient way to increase the value of your home without breaking your budget? Investing in new flooring is the perfect way to transform your space and increase your home's value quickly and easily.

Ease of Maintenance - There are so many different types of floors, and most require excessive maintenance to keep them looking perfect. By sweeping and mopping your luxury vinyl tile routinely, it will retain its pristine appearance.
Resilience - When you're spending thousands of dollars on new flooring, the last thing you want is your floors to be scratched or stained in just a few short months. Luxury vinyl flooring is resistant to moisture, scratches, and staining.
Resilient Flooring: The Right Choice for Any Home
How often do you think about your floors? If you're like most homeowners, the answer is probably very rarely, if not at all. The truth is, your floors see wear and tear daily. You walk on them, drop things on them, and more. When it comes to your floor coverings, durability and strength are a must.
Luxury vinyl floor tile is versatile, very easy to clean, and strong. In fact, it can withstand the test of time, even if you have an active household. The ease of maintenance with LVT is tough to beat, making it the right choice for any home. Spills and messes on vinyl flooring are easily swept up or mopped away, without any stains left behind. Whether you have children, pets, like to cook, or make crafts, you do not have to worry about ruining your floor. We offer this flooring from the following reputable brands:
Downs™
Naturcor™
Armstrong™
Home Craft™
Stainmaster™
Mannington™
Hearth & Home™
So Many Styles of Luxury Vinyl Floor Tile
No two homeowners have the exact same style. Finding the perfect floor can be impossible when you visit just any showroom or retailer. At our company, we'll go above and beyond to help you find the perfect floors to complement your personal style. Choose from luxury plank flooring, tile, or sheets. We offer several patterns and variations of styles to match your home's existing theme and décor. From modern to rustic, faux wood to imitation marble, we have every look you want.
The luxury plank flooring we offer mimics hardwood and comes in many different options, species, textures, finishes, and more. Our felt-backed sheet vinyl is also growing in popularity. For an even more resilient, cushioned feel underneath your feet, choose our fiberglass vinyl sheet option for the ultimate comfort. The top layers of our vinyl flooring are identical in both felt and fiberglass options. They are constructed with a protective top coat, clear vinyl layer, and printed vinyl design layer.
Services from Our Luxury Vinyl Tile Installation Pros
Scratch resistant with an unmatched level of high performance, luxury vinyl tile exceeds all expectations when compared to other flooring options. Its authentic texture is layered with additional protection, which also provides waterproof capabilities. Though it's easier to install than other floor coverings, it still needs to be done by a professional. Unfortunately, not all retailers offer luxury vinyl tile installation services.
At our company, we do much more than sell superior flooring. We're proud to offer hassle-free installation services, too. Rely on our team to correctly place your flooring down to ensure it lasts throughout the lifetime of your home, through the wear and tear of daily life. When done right, vinyl flooring adds tremendous value to any home and is sure to wow your guests for years to come. Installing your new floors is a job that you want to make sure is in the hands of a team you trust. Look no further than our experts. Committed and experienced, we have the tools and knowledge needed to do the job right the first time.
For your added convenience and peace of mind, our professional flooring technicians offer The Ultimate Confidence Guarantee for our luxury vinyl tile installation services. If you are not satisfied with your new vinyl tile flooring, we are happy to replace it with another kind of flooring for free within 30 days of installation. However, we are confident that you will love your new floors for several years. Please contact us should you have any questions about our services or our guarantees. We're more than happy to provide you with additional information.

Update the look of your space with affordable luxury vinyl tile from our company. Contact us today to pick out new flooring for your home. We're proud to serve clients throughout Rancho Cucamonga, Alta Loma, Upland, Fontana, and Ontario, California.