Laminate Flooring in Rancho Cucamonga, CA
Are you looking to upgrade your flooring and are starting to search for the perfect flooring type that can rival hardwood and ceramic tile at a more budget-friendly price? Check out our collection of laminate flooring here at Foothill Carpet Flooring America. We offer a wide selection of wood-look and stone-look laminate flooring solutions.
Our showroom in Rancho Cucamonga, CA, carries many beautiful styles and patterns of laminate flooring from the industry's top brands, including Floorcraft Maysville, Mannington, Shaw Floors, Mohawk, and many more. Our team of flooring experts are dedicated to helping you find the right floor to meet your budget, match your home decor, and add value as well as function to your space. We will be here for you from selection to installation, helping guide you to find your perfect flooring every step of the way.
Why Choose Laminate Flooring?
Laminate flooring is a strong flooring solution that will fit into nearly any space. It holds up well to the daily wear and tear of active households, making it ideal for homes with pets and children. Heavy foot traffic is nothing to fret with laminate flooring!
Laminate floors are more stain-resistant than natural flooring types such as hardwood, and their versatility makes them a great addition to any room in your home. Thanks to technological advances, laminate flooring has been engineered to withstand moisture-prone areas, meaning they won't expand or contract when they are installed in rooms that are prone to moisture, such as bathrooms and basements.
The benefits to choosing laminate flooring are nearly endless as they are resistant to stains, scratches, cracks, and dents. They are also easy to maintain and keep clean since they only require regular sweeping and the occasional mopping. Before purchasing any cleaning solutions, be sure to check your floor's warranty and avoid using any cleaning solutions that could harm the laminate's wear layer. We are always happy to work with you and make a product recommendation that fits your warranty.
Laminate's Make-Up & Types
Laminate is created using a direct- or high-pressure method to provide you with one of the strongest flooring choices on the market. The direct-pressure method fuses all four layers at once while the high-pressure method fuses the layers one at a time with higher amounts of weighted pressure and heat. Both methods produce a beautiful flooring that is available in many different patterns and colors. Laminate's base protects against moisture and it has a core that can withstand even the heaviest of foot traffic. The wear layer is typically made of melanin resin and aluminum oxide, which protect the laminate from damage. Laminate's top layer is decorative, which allows for a variety of patterns that can look like wood and stone. When you visit our showroom, you can choose from a variety of laminate flooring options that will enhance the look of any room!
Learn more about the different types of laminate flooring we carry:
Laminate Wood Flooring
Our laminate wood flooring offers the same beauty and traditional look as hardwood floors, but it is more durable and low-maintenance. Laminate wood flooring can look just like your favorite hardwood species such as mahogany and oak and this is because of the laminate's high-quality photogenic top layer. Laminate has layered construction with a clear coating on top that allows you to see the image of wood beneath. Behind this is a sturdy wear layer that stabilizes this flooring and a backing layer that resists moisture.
Laminate Tile Flooring
Stone and tile add richness to any living space. Laminate tile flooring replicates the highly desirable appearance of real stone flooring at a lesser cost. Our stunning collections of laminate resemble quarried stone, porcelain, ceramic, glass, and more. Select the floors that resemble your favorite stone or tile, and you'll receive a high-end look without enduring a high-end price.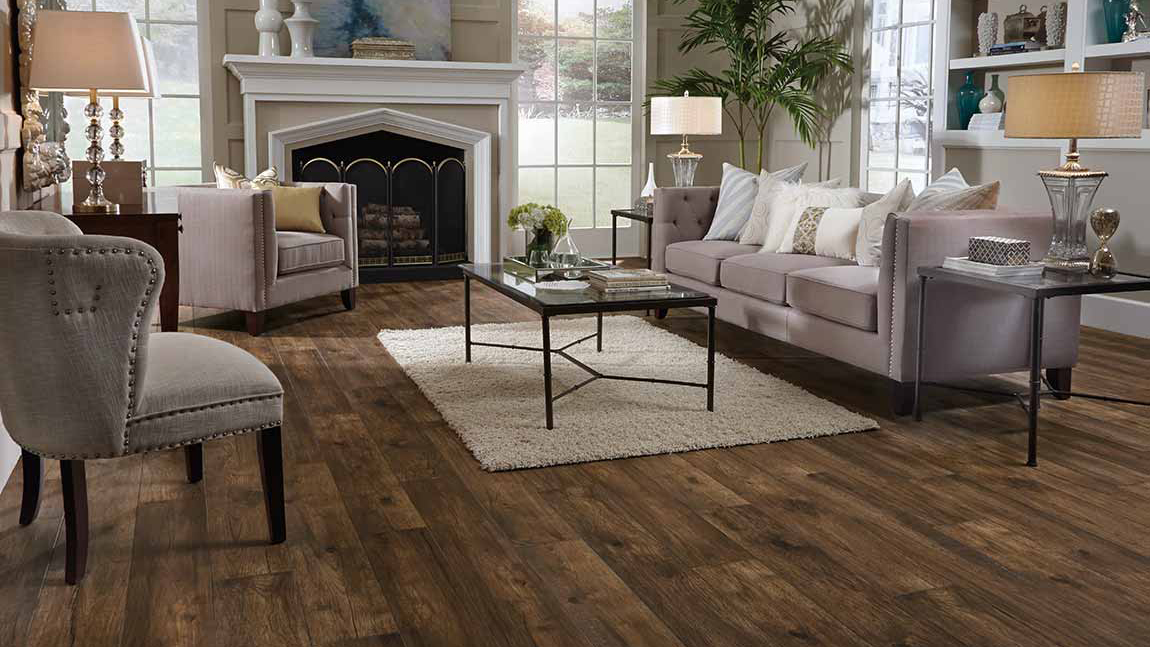 Expert Laminate Flooring Installation
Installing your own flooring can be tricky, so trust us to handle your new laminate flooring installation. We treat your home with the same level of respect you do and we complete every project we do on time and on your schedule. You will notice how beautiful your new flooring looks once our installation team has finished. Our professional expertise and flooring equipment ensure the entire installation process is quick and easy for you.
Count on us for experienced and detailed flooring contractors with the skills and experience to properly install every piece of laminate in your home. With our help, you never have to worry about your flooring project. Our Ultimate Confidence Guarantee ensures a no-cost repair, should something go wrong following installation.


Contact us to learn more about our laminate selection. We proudly serve customers in Rancho Cucamonga, Alta Loma, Upland, Fontana, and Ontario, CA.